Welcome to Operation Lone Star -Texans Supporting Our Troops, a 501(c)(3) Texas non-profit corporation founded by families who have had or currently have loved ones serving in the Armed Forces. Our mission is to provide fellowship, guidance, encouragement, and support to members of the United States Armed Forces and their families and friends.


PRESIDENT'S MESSAGE

San Antonio de Bexar, Texas 1836

"Dawn of the twenty-fourth brought to the Alamo garrison the full realization of their predicament. They were besieged by several Mexican battalions of infantry and cavalry - more than fifteen hundred men, it appeared, with little doubt that several thousand more were on the way." from "The Blood of Heroes," by James Donovan.





Alamo commander Lt. Colonel William B. Travis went to his darkened quarters located in the north wall of the "fortress," sat at his make-shift desk, and composed a letter that would become known to history for its immediacy, its inspiration, and its determination. A message to reinforce, to organize and to march in all haste to San Antonio de Bexar. To the defense of the Alamo.

To the People of Texas & all Americans in the world -

Fellow citizens and compatriots -

I am besieged, by a thousand or more of the Mexicans Under Santa Anna -- I have sustained a continual
Bombardment & cannonade for 24 hours and have not lost a man -- The enemy has demanded surrender
at discretion, otherwise, the garrison will be put to the sword, if the fort is taken -- I have answered the demand
with a cannon shot, & our flag still waves proudly from the walls -- I shall never surrender or retreat. Then, I
call on you in the name of Liberty, of patriotism & everything dear to the American character, to come to our aid,
with all dispatch -- The enemy is receiving reinforcements daily & will no doubt increase to three or four thousand
in four or five days. If this call is neglected, I am determined to sustain myself as long as possible & die like a
soldier who never forgets what is due to his own honor & that of his country -- Victory or Death.

William Barrett Travis
Lt. Col. Comdt.

P.S. The Lord is on our side -- when the enemy appeared in sight we had not three bushels of corn -- we have
since found in deserted houses 80 or 90 bushels & got into the walls 20 or 30 head of Beeves --

Travis





Several years ago, Operation Lone Star Vice-President Judy Pierce, Secretary/Treasurer Sandy Alexander and I met to discuss fundraising activities as well as new ways to show support to our troops, specifically to our Wounded Warriors. They gave so much for our country, yet many of them are forgotten. Many of them are not appreciated. We want to do something to remind them that there are plenty of people who do care for and support them. We want to do something to inspire them, to motivate them through recovery, through rehabilitation, through life.

We want to let them know that Operation Lone Star is and always will be there for them. We want to remind them that Texas has always taken care of its' heroes and will continue to do so.

We came upon the idea of a Challenge coin. Our goal was to inspire and motivate. Challenge coins meet that goal. The hard question was what do we put on a round piece of metal that would motivate a young man or woman to fight the good fight, to work through the pain, to never give up no matter how overwhelming the odds may appear to be?

"I shall never surrender or retreat."

We excitedly began development of the Operation Lone Star - Texans Supporting Our Troops Challenge Coin. The "front" side was relatively easy: the Operation Lone Star logo. But what about the "back" side, the motivational side? We placed a Lone Star to represent the State of Texas so every Warrior we gave a coin to would always remember the Lone Star State, that "Texas takes care of its' heroes," regardless of where the hero is from.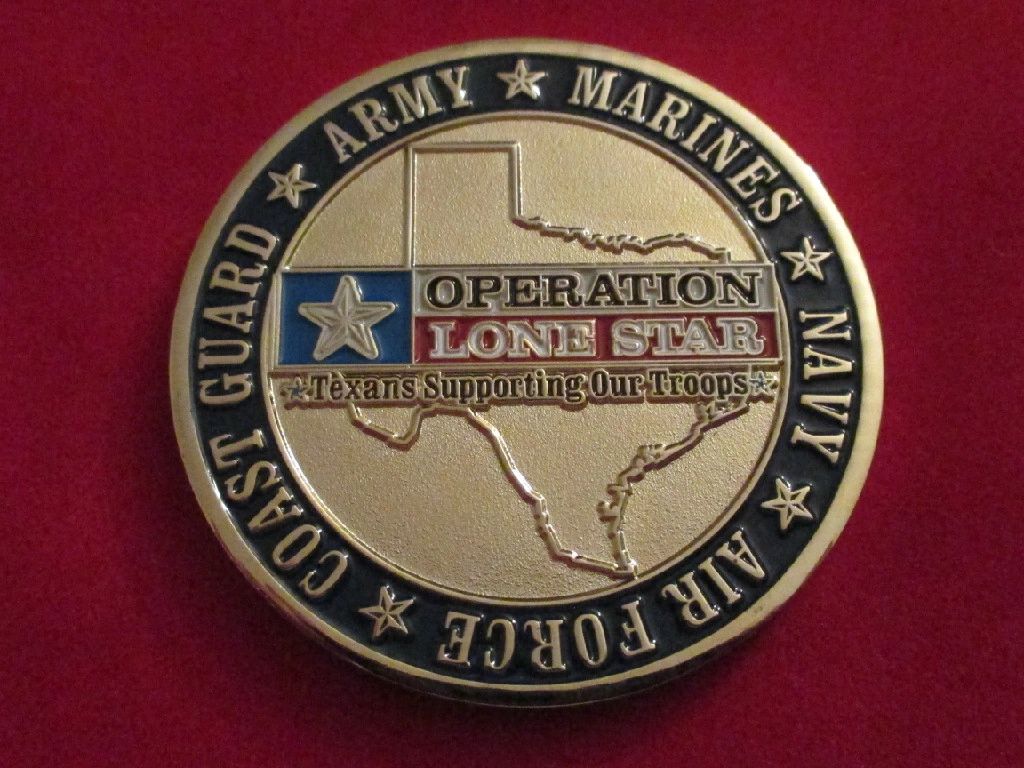 We placed the quote from the Travis letter around the edge of the coin. A quote made to encourage our warriors to build the physical and mental strength necessary to continue forward in spite of the pain or difficulty. We placed a reminder of courage, steadfastness, and determination, The Alamo, the "Cradle of Texas Liberty," in the background, behind the Lone Star, never to be forgotten.

We call this the "Alamo Coin." This coin will be given to Wounded Warriors we encounter at fundraisers, various events, and in our daily life. It will be given to no one else. It will not be sold at any price. The Operation Lone Star - Texans Supporting Our Troops Alamo Challenge Coin is our way of saying "Thank you" to our Wounded Warriors. A way of showing our support, our encouragement, our pride.




Our goal is to lift the spirits of our Warriors when times are tough, when they're having a difficult day, when things aren't going well.
"I shall never surrender or retreat."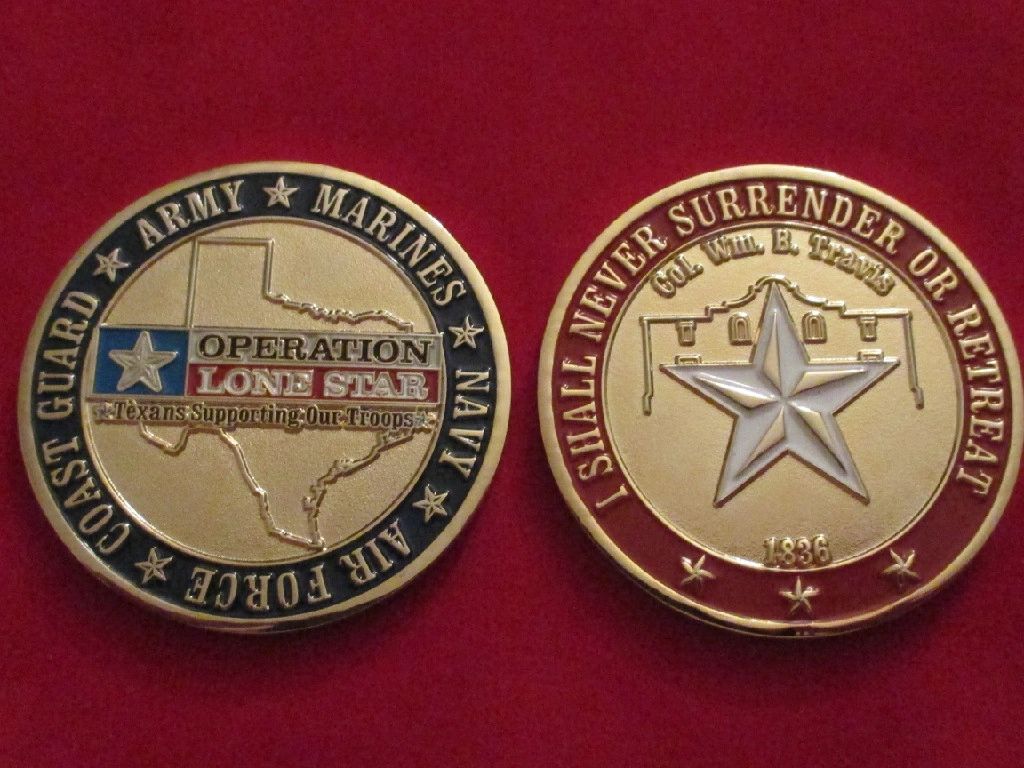 MORE ABOUT OUR ORGANIZATION

Operation Lone Star-Texans Supporting Our Troops was founded on July 4, 2008. We've come a long way from that Saturday morning when Judy Pierce, Sandy Alexander and I sat at my dining room table and agreed on a name, a logo, and a mission. We decided right away that Sandy, with her knowledge of tax laws, charities, forms, documents, etc., along with her computer savvy, had no choice but to be our Secretary/Treasurer. We needed a hard worker, someone who could get things done as our Vice-President. That was the perfect role for Judy. We needed a President. Sandy and Judy made me take the job. I've learned over these years that the phrase I heard so often in the Navy, "Rank has its privileges," has absolutely no meaning at all to these two ladies. I'm President in name only. They do what they want to do, when they want to do. I'll give directions, orders, instructions. They look at me. Then they do what they want to do. I've said, "Yes, Dear," more in the last few years than I have in my entire life.
I know, however, that even though I'm maligned, disregarded, disrespected, and generally ignored, that there would be no Operation Lone Star-Texans Supporting Our Troops if it weren't for these two exceptional ladies.
We began with 2 tables, a donation box, and a canopy at the entrances to our local WalMarts. Although those fundraisers were relatively profitable we moved on. We have participated in many worthwhile charitable events since then and have been able to continue our endeavors through so many organizations, including the Travis Manion Foundation and the Houston Police Officers Union, as well as surrounding churches and schools. Our thanks and appreciation goes out to them for their support of our organization and our troops.
We were granted the privilege of visiting and touring The Center for the Intrepid, a state of the art rehabilitation facility located near Brooke Army Medical Center on the grounds of Fort Sam Houston in San Antonio, Texas. The work the staff does for our injured warriors is nothing short of amazing. The result of their unending support is indescribable. The strength of the warriors who walk about on two prosthetic legs with little or no effort, almost looking like they want to challenge you to a foot race, would put a smile on any pessimist's face. They are the definition of the word Patriot. Operation Lone Star-Texans Supporting Our Troops purchased and donated several items to the Center which would help speed the recovery and rehabilitation on these heroic men and women.
Our proudest and most touching moments have been when we've participated in the annual Warrior's Weekend event. Wounded Warriors are treated to a day of fishing in Port O'Connor, Texas, followed by an awards ceremony and a Texas barbeque dinner. Over 500 wounded heroes are flown into Houston from military medical facilities from all over the country. They are greeted at various gates by volunteers, who escort them to the baggage claim area. Most are tired, many are in pain, several are in wheelchairs, as they make the long trek through the concourse area.
As they descend the escalator they are energized by what they see: The Houston Police Department Honor Guard, the Harris County Sheriff's Department Honor Guard, the Transportation Safety Administration Honor Guard, and a Marine Corp Honor Guard. They are greeted by hundreds of well-wishers who have crowded the baggage claim area. Signs and American flags are everywhere. Everyone is cheering and applauding. As these wounded heroes move through the gauntlet past the luggage carousels and around the elevators to the waiting buses strangers step from the crowd giving them handshakes, hugs, and kisses. The heroes are now smiling from ear to ear.
The Wounded Warriors board the buses and as they leave the terminal they are met by a contingent of Houston Police and other law enforcement agency motorcycles as well as Patriot Guard Riders who number in the hundreds. The buses are escorted through the city and all the way to Port O'Connor, picking up new escorts from each jurisdiction they enter. They are taken through small towns on the route, where the entire populations are waiting, also waving flags and holding signs as the buses pass through their business districts.
The following morning they are bused to the docks, along with more heroes who have arrived from Brooke Army Medical Center in San Antonio. Upon arrival they are met by a large crowd of citizens, volunteers, and patriots. Hundreds of fishing boats, large and small, are standing-by waiting to pick up their fishermen and women.
I can't adequately describe the emotions we feel when these selfless men and women step off the buses and make their way past the cheering crowd to the waiting boats. Some walk slowly. Some need assistance. Several are in wheelchairs. Too many have missing limbs. The one thing that stands out are the smiles. They can't believe that it's all for them.
I'll never forget the young soldier with two prosthetic legs. He couldn't have been over 20 years old. As he walked out on the dock with a huge grin he waved a crutch and yelled, "Go, Texas!"
And the comment we've heard numerous times in our four years of participation in the Warrior's Weekend: "Nobody treats us like Texas does."
The thing that touches our hearts the most is that these young men and women take the time to thank us. We owe them everything. They've made the sacrifices, but they thank us. They are, without a doubt, the finest our country has to offer.
Several hours later they return with every manner of marine life. They weigh them in hopes of receiving an award later that evening. Everyone is bused to the Port O'Connor Community Center for the awards ceremonies and the barbeque dinner.
Warrior's Weekend also includes a Field of Honor. Two thousand American flags, each 3ft by 5 ft, proudly flying in the breeze. Two thousand American flags, each one representing a veteran, a lost loved one or a military unit. Each one with a tag stating the name of the person or unit it represents. It's truly a sight to behold. When you see the Field your heart swells with pride.
Operation Lone Star previously donated flags which represented Specialist John Dobroski, a close friend, who was killed in Vietnam; airmen and crew from my former ship, USS Ranger, who were lost at sea or shot down over Vietnam; the Marines from my son's former unit, 2nd Battalion, 7th Marines, who made the ultimate sacrifice in Iraq and Afghanistan; Marine LCpl Josh Logan, the son of a friend who lost his life in Afghanistan; the soldiers from my daughters former unit, the 810th Military Police Company; and the Marines from Sandy's son's unit, (2nd Marine Airwing /MALS 29).
Our original charter stated that we provide fellowship, guidance, encouragement, and support to members of the United States Armed Forces and their families and friends. We've expanded that to include veterans.
We attend the Memorial Day and Veterans Day ceremonies at Houston National Cemetery. For the past several years, we have participated in the Veterans Day parade with the float we built to honor those who have served or are still serving.
We've been active with Wreaths Across America, a non-profit organization whose motto is, "Remembering our veterans one wreath at a time." In 1992 they placed 5,000 holiday wreaths at grave sites in Arlington National Cemetery. During the last holiday season they placed 105,000 wreaths at 500+ National Cemeteries and other locations, including Houston National Cemetery. We also participate in the removal of the wreaths after the holiday season.
We've had the privilege of shaking the hands of untold numbers of active-duty heroes and veterans. We've met their families and loved ones. We've laughed with them, encouraged them, and, on several occasions, gotten a little misty with them.
We've also met Gold Star families, those who have lost a loved one. They stand tall and they stand proud. It's truly an honor to spend a few moments with them.
Operation Lone Star-Texans Supporting Our Troops has been both a blessing and an education for us.
As long as there are soldiers, sailors, airmen, Marines, and Coast Guardsmen deployed around the world we'll be here for them. God bless our troops and God bless America.
Jim Conley, President
Operation Lone Star - Texans Supporting Our Troops